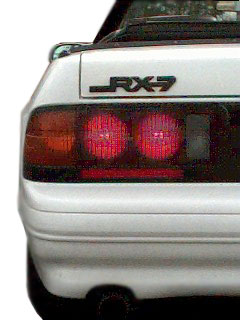 Welcome! Once again, I am redoing things, with a slightly different name. Currently I only have my 1st and 2nd Generation Rx-7 projects pages entered, but I will be adding much more as the days go by!
Interesting events at the Speed Shop
5-16-2002 Well, it is been one year, one month and one day... Suppose I will give a quick update! Unfortunately, I am RX7-less at the moment, but I am hoping that will change in the near future. I want to pickup a 89-91 Turbo II in nice shape (complete), but in need of an engine- If you have one you'd like to sell for cheap, let me know. I want to thank every person that has visited my website... I could not believe that this site averages almost 1000 hits per month! Also, if any of you would like a custom PC built or have a programming project, I could be of service. Drop me a line at: topless_rx7@hotmail.com . I am going to add some more stuff to this site in the coming weeks (yeah, I've said that before!), but I really want to this time! The web site bug is coming on strong again.
4-15-2001 Today I traded in the 1991 Rx-7 for a 1995 Corvette. If I do not sell my 85 Rx-7 soon, I will keep it and keep this site going.

3-15-2001 Lined and up oil cooler from a 2nd gen Rx-7 for my 85. I want to get rid of the pathetic present oil cooler mounted under the oil filter. That will be nice, not to mention eliminate a few small leaks!
3-14-2001 Took the 85 on it's first drive since adding the underdrive pulleys and Holley fuel pump. I noticed a little quicker acceleration and a much nicer idle. The Dellorto is now getting plenty of fuel, so my stumbling is also gone. Cruising at a constant speed is also perfect. Added more pictures too!
3-13-2001 Repaired copper sealing washer behind crank pulley, which fixed my oil leak. Also fixed the small hole in my radiator with some metal epoxy. Also crafted a new oil metering pump rod as a more permanent solution to my temporary fix.
3-10-2001 Purchased Holley "Blue" fuel pump with regulator to replace my junk pump.
3-6-2001 Well, I went to check out the car, fully ready to purchase the beauty, but some one had already beat me to it. Also, I figured out my drivability problems with the 85 Rx-7; the fuel pump is junk. Sometimes it will put out full capacity, other times it will just trickle. Time for a GOOD fuel pump.
3-5-2001 News Flash!! I may be picking up another 1st generation Rx-7! It is gunmetal blue, with a perfectly straight body and no rust. The paint appears to be in spotless condition. The best part is that the owner only wants $850!! I will be checking it out on my lunch break to see what it is missing. I will keep you informed! On a minor note, it was warm today, so I decided to stretch the legs of the convertible since I have been neglecting it with all the new "toys" on the GS.
3-4-2001 Detailed
the engine bay extensively and removed items I no longer want or need. Check my list of "
Removed Components
" to see what I have all taken off so far.
2-28-2001 Disaster struck. My carburetor decided to crap out on me after almost 140,000 miles of service, leaving me pretty much stranded while I was finalizing my move from the southern Puget Sound area to northern Puget Sound. Fortunately, I have a Dellorto standing by to take place of the Nikki which was in bad need of a tune up anyway!
2-15-2001 Payday. You know what that means... Time to buy more car parts! I got all the fluids changed in the 85 Rx-7... Fresh oil, radiator flush and synthetic in the gear box and differential. I went to a Grease Monkey in Lynnwood, which I plan on returning after their stellar service. Maybe it's because they don't get a $200 oil change customer in that much :) Also, got a new fuel filter for the 85 (Fram G-12) along with a few other things like an extra fuel pump in preparation for the Dellorto carb.
If you want more great Rx-7 information and pictures, continue along the Rotary Web ring!
(may have to hit refresh to see web ring box properly)