K&N Air Filter and Fram Fuel Filter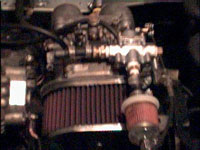 I was not too impressed with Racing Beat's steel mesh/ foam air filter, so I replaced it with a K&N for a Webber carburetor that was donated from my brother.
I am also using a clear Fram G-12 universal fuel filter just before the Holley 4.5-9 PSI regulator. The clear fuel filter was a great help in diagnosing my poor idle, because when ever my idle was bad, I could see that I had next to no fuel in the filter. With the new Holley Blue fuel pump, it is totally full at all times, which means that I am keeping up with the thirsty Dellorto very well. Before, it was 1/2 - 1/4 full at all times with the cheap Purolator fuel pump.