1st Gen Rx-7 Projects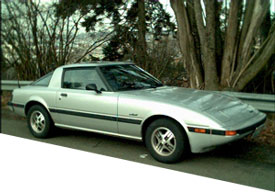 Lately I have been working on a lot of new things for my 85 Rx-7. Mostly I am trying to get the car in shape for autocrossing with in the next few weeks. Hopefully I can get some wheels and tires soon so I can be truly competitive.
Visit the links on the blue bar to see what I have been up to lately!
I am thinking about converting to the 86 style instrument cluster, just because of the large center mounted tach; plus I already have one! I'll post some preliminary stuff when I figure out what to do about the bezel (The 1st Gen is biggest at the top while the 2nd Gen is biggest at the bottom, so the bezel would have to be "flipped" to work right).